More often than not this great day in the cycling calendar is almost as tough on the spectators as the riders, with low temperatures and lashing rain but today was bright and glorious.
We set off from Nero's in fabulous sunshine to the beautiful autumn surroundings of Yorks Hill, with the buzz of competitors nervously fixing their numbers and warming up. For us spectators there are easier decisions: 'mustard on yer bacon roll guv?'
We only had one rider in this event, Chris Filewood and he was calm before the storm. We watched other riders before him toil up the legendary hill and suddenly, there he was, pounding the pedals, head down…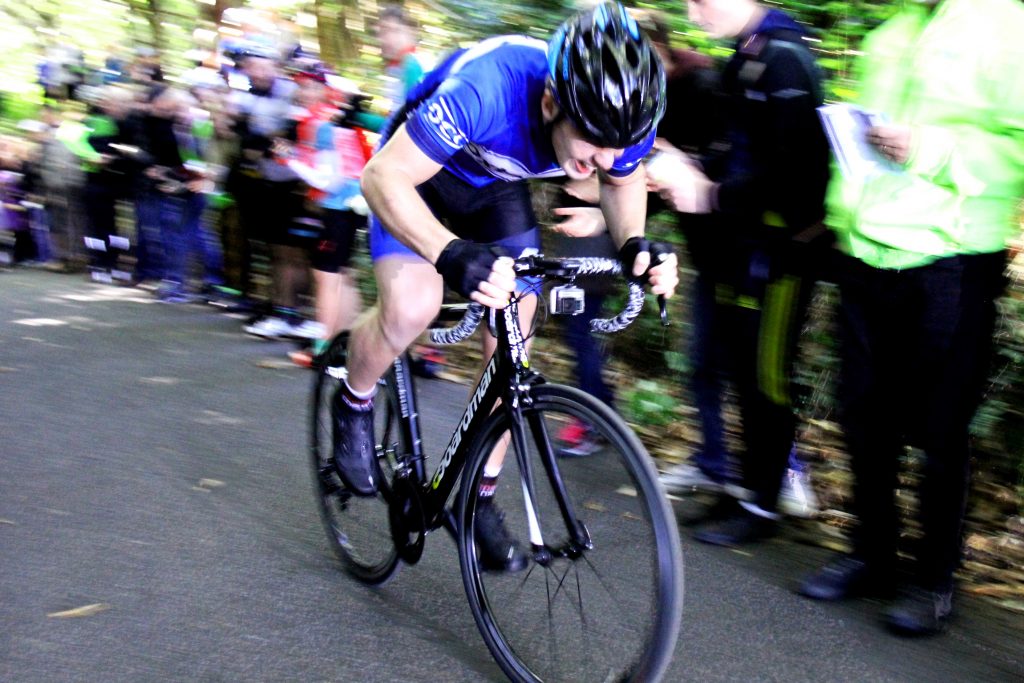 Chris did a fabulous 2.22 and as he crossed the finish line, he collapsed in a heap, alarming us briefly but he was fine. That massive effort placed him 2nd out of the 30 riders who'd finished by the time we decided to move off.
Incidentally, quite a few riders are totally spent by the time they finish; one girl lost control, rode into a parked car and was caught by spectators before she passed out. We watched a few other riders but getting chilly, Steve, Duncan and myself decided to head off for a ride – and what a glorious morning to descend Bayley's for Chiddingstone, then onto Westerham Cyclery for a light lunch, the place was heaving with riders heading to and from the hill climbs. Chris Filewood and Chris Hewitt joined us and some East Grinstead riders. Then it was time to head up to The Bec.
The buzz at White Lane is fantastic. It's all flags, banners, anxious riders, friends, family, music – and a great announcer. I first came to this event in 1969, aged 15, it's still just as much fun. The action starts at 2pm…
Our first rider was 12 year old Aimee Hobbs, her dad Paul was more nervous than her, she was astonishingly calm before the start and got huge applause from the crowds. She battled up the hill to finish with 3.55.5, that's faster than many of us could manage!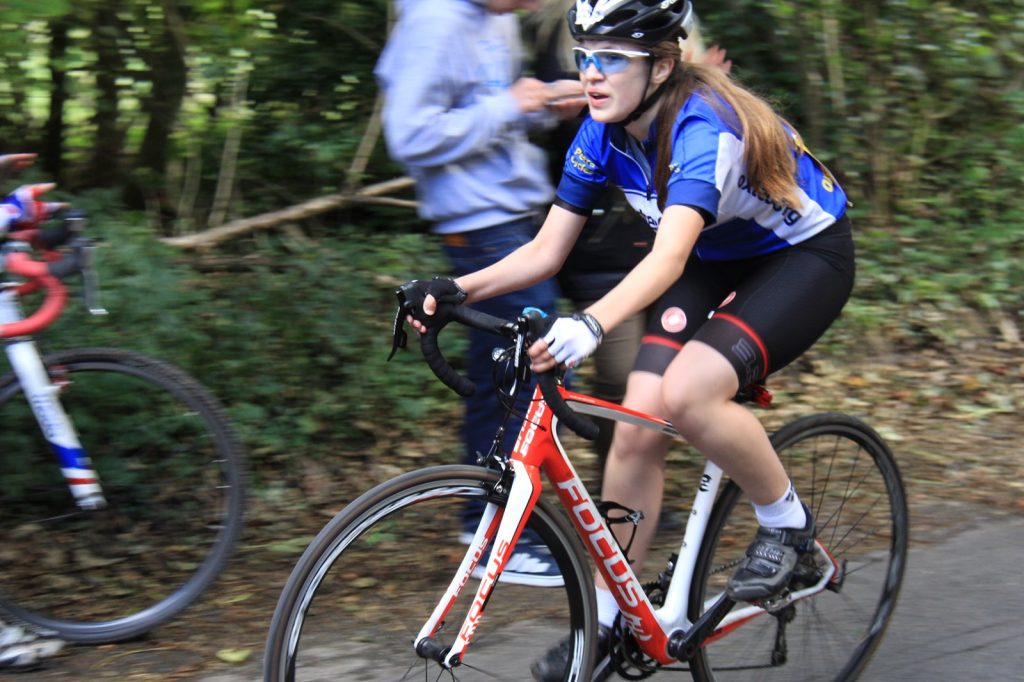 Next was Jack Dennison, flying up the hill, which he conquered in 2.18.7, a fabulous time.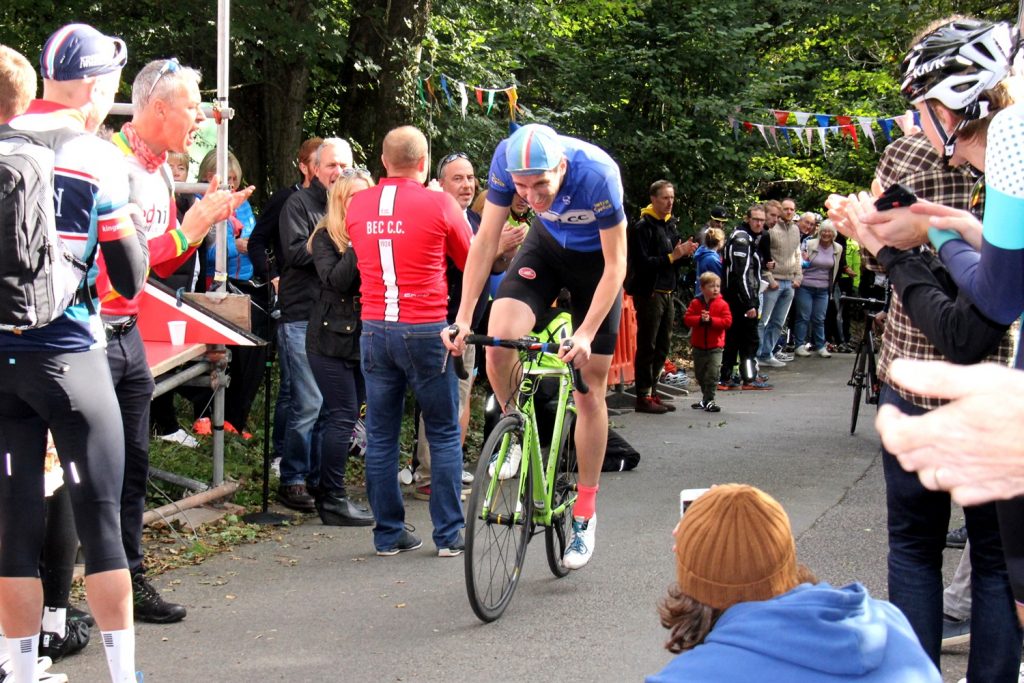 Next up was Richard Powell, an accomplished racing man not used to hill climbs but brave enough to give it a go. He looked unfussed about the cheering and noise around him to make a very respectable 2.27.1. After getting his breath back, he started talking about how he'll use different gearing next time, so he has plans for 2017!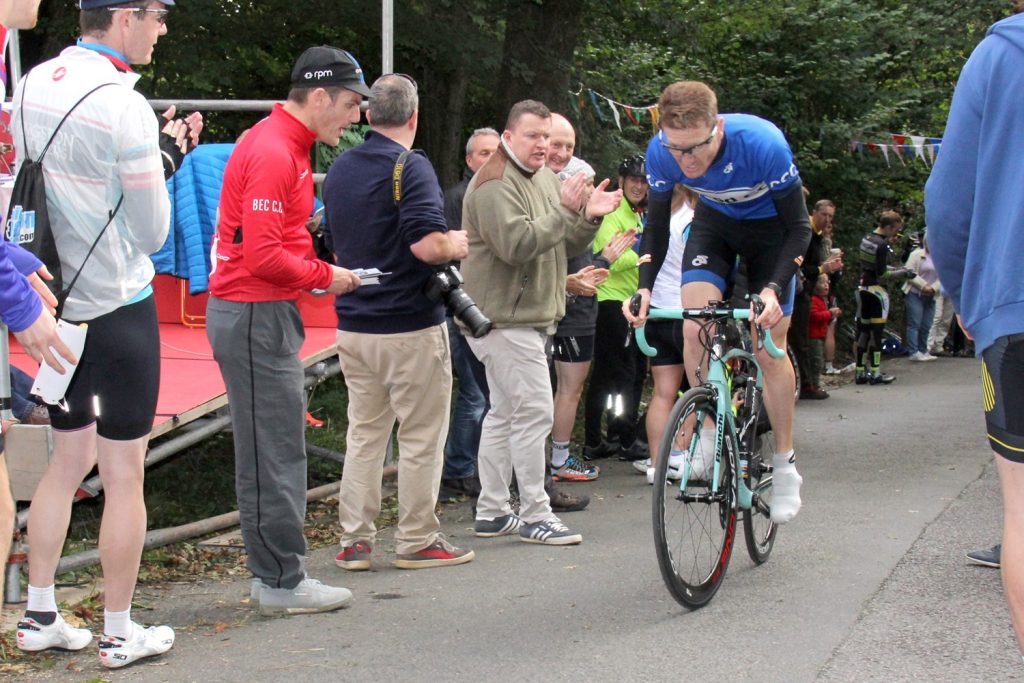 Chris Filewood was making it a Cat–Bec double today, which is hard…and he'd ridden from Yorks to White Lane. His family all turned out to cheer him on plus a HUGE contingent of Oxted supporters now lining the hill! Somehow Chris found the energy to shake the tarmac with a stunning 2.17.3. Incidentally, in a Hill Climb event, Juniors are required to wear crash helmets.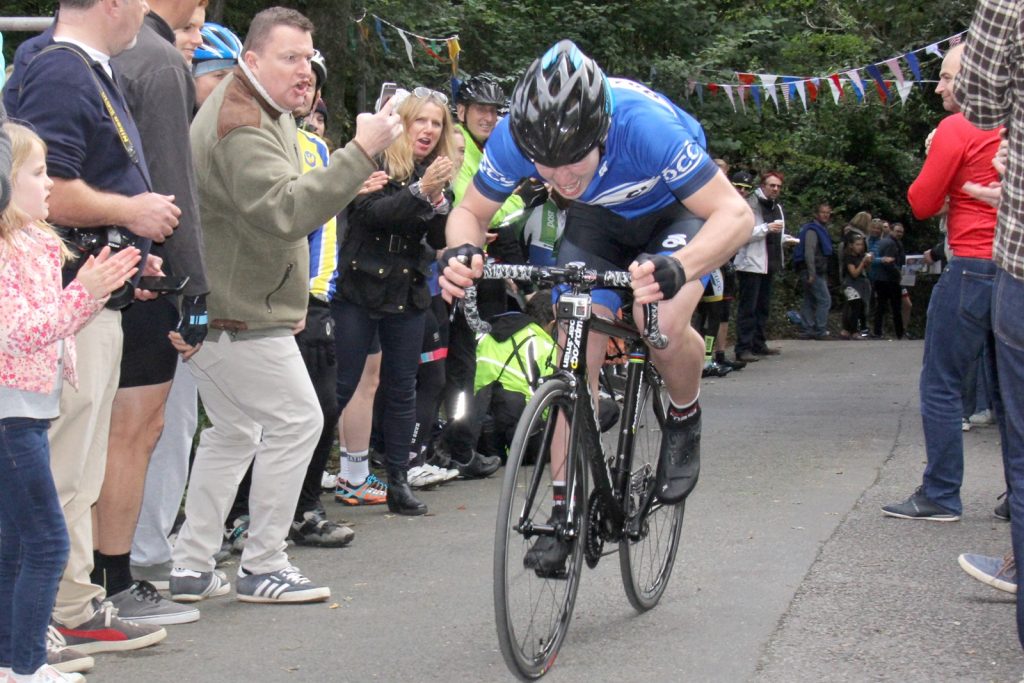 Number 109 on the start sheet was Chris Hewitt, just back from holiday in California. Jet lag and any lack of miles didn't deter him from knocking 2 seconds off his time for last year, with 2.26.3. Another great Oxted result…and a terrific 'race face' of sheer determination!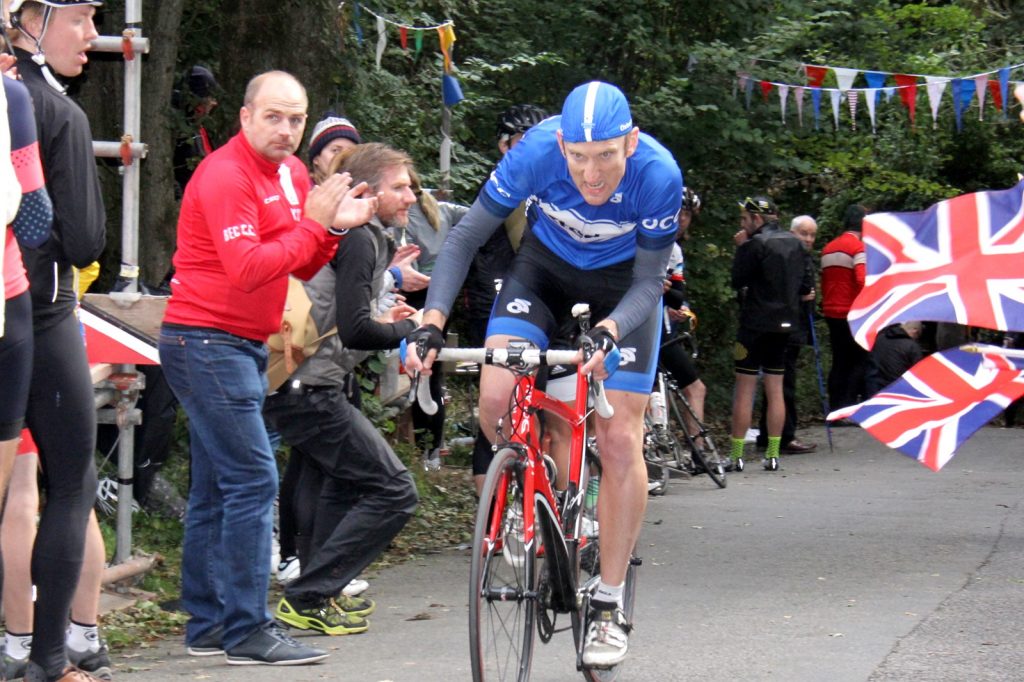 The organisers arrange things so that known top performers go later as the competition hots up, so Chris Balkham was our last rider to attack the hill. Chris's wife Lindsay was there to cheer him on, they're expecting their first child in about seven weeks, good luck!! Chris hammered past us in 2.10.2 – our fastest rider of the day!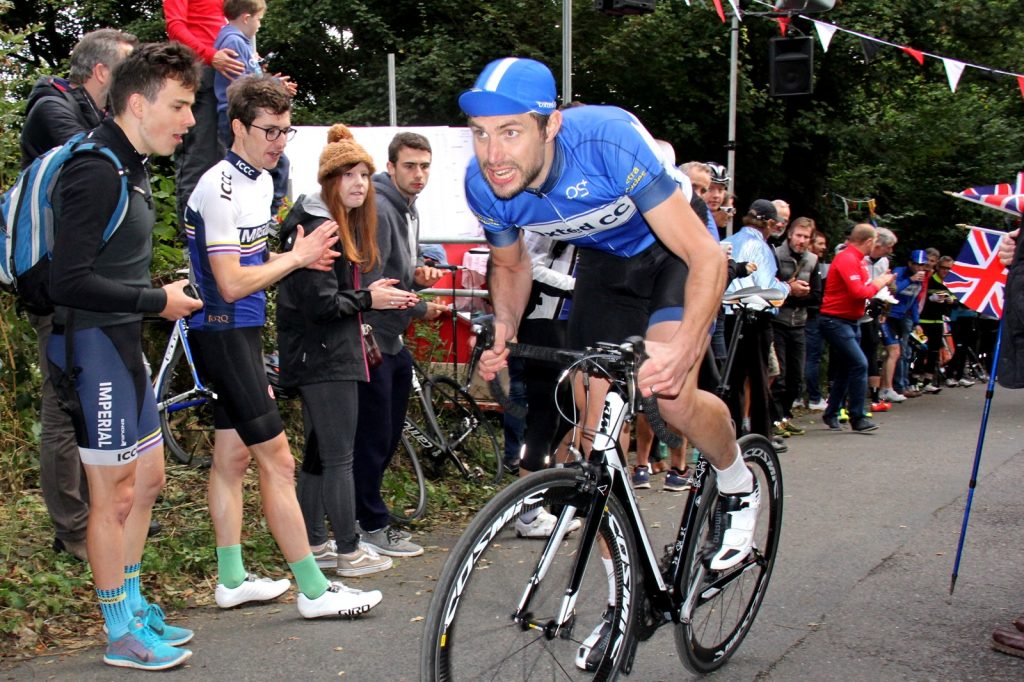 THIS WAS A FABULOUS DAY FOR OXTED CC – it's not easy to ride both events, so we were honored to have Chris Filewood tackle both…and with gusto. We had a terrific 'big up' from Mike Morgan, the boss of Catford CC who was on the PA system at the CAT event; he praised our success as a 'serious new cycling club'. And in the afternoon at White Lane, the announcer was full of praise for Oxted riders…and our distinctive kit, event organisers always complain about people not riding in club colours.
IT WAS ALSO FABULOUS to see so many Oxted members and their families turning out to cheer on our riders. It's a big sacrifice because however much you wrap up, it gets cold standing for hours. But isn't it exciting?! And isn't this a very 'real' sport, with no luck or short cuts, just intelligent, hard training to 'get to the top'! Full results for both events will be published tomorrow.
HILL CLIMBS MARK THE BEGINNING OF THE GNARLY SEASON. This will be our fourth winter and we're not going to let it beat us. To stay fit, slim and gorgeous (as we all are!) we have to wrap up, knuckle down and keep riding. The only time we'll cancel rides is if there is ICE and if there's snow, we'll meet up and walk over the downs!
The Biggin Hill sportive is next, we can ALL do this one! Book here: www.evanscycles.com/biggin-hill-road-sportive-entry-6th Nov